links
Our partners
- Rent a car, motorbike or bicycle
- Restaurants and Taverns
- Coffee bars
Paleochora "the bride of Libyan sea"
Paleochora or Palaiochora is a small village of 2,500 residents. The village is placed at the South-West region of Crete, 70 km away from Chania city. Paleochora was built on an peninsula just in the middle of two crystal blue bays of the Libyan sea. That is the reason the local people often call it "the bride of Libyan sea".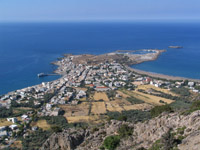 This village is a place where any visitor will love. The main reason for that is that Paleochora give vacations the real meaning. Relaxation and an escape from routine at low cost are the basic elements for that. Just a nice walk by foot or bicycle in the small streets is enough to understand the pulse of this exotic village. Paleochora is the ideal place for friends, couples, families since it provides all the facilities that you might need and in a safe environment. The rhythm is quiet traditional, people are friendly and polite and the climate Mediterranean.
Due to its geographical location Paleochora has 18 Km of crystal clear beaches for any taste. The visitor can select among those beaches that are organised (with beach umbrellas, lifeguard, snack bars etc) or a quiet bay where he/she could even be alone. Furthermore the visitor has the chance to select sandy or pebble beaches.
Paleochora provides all the facilities that the visitor might need, such as: Local hospital, Pharmacies, Banks, Police station, Post Office, Rent a car etc.
Finally, the visitor has the opportunity to discover other nearby places like the ancient cities of Lissos, Elyros, Kantania and the famous Samaria Gorge or travel with the boat to Gaudos island with the magical beaches full of cedar trees. Paleochora is also known in Europe since is a passage of European paths E1 and E4..