Escape from usual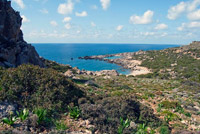 If you love walking then you can follow the European paths E1 & E4 and discover a spectacular view of nature (click for more info). Best seasons to pass them are the spring and autumn .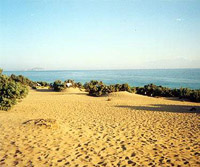 This small island which is considered the southern frontier of Europe and Greece has only 98 residents. Here the nature remains unchanged like no human ever passed through. Countless sandy beaches full of cedar trees for relaxing and camping. You can find ore information regarding the island the tickets costs and the times to travel in local travel agencies.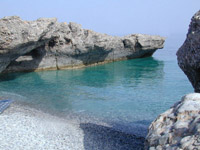 Visit the famous Paleochora's beaches (Sandy beach, Gianiskari beach, Grammenos beach, Psilos Volakas beach, Krios beach, Xaliki beach, Karavopetra beach) but also those that where nobody will disturb you.
The ancient cities of Lissos, Elyros
Through a spectacular walking in the nature you will find the ancient cities of Lissos and Elyros. Lissos city was known in ancient years for the "Asklipeio" where Cretan patients were treated in its thermal waters.
Elyros was a larger city of approximately 30,000 residents. The city had its own currency and was really rich due to the commercial harbours of Sougia and Lissos.
Palochora has its local museum where the visitor can meet elements of history, tradition and culture of the region.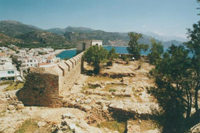 The castles built in Crete by Venetians where not so many due to the structure of the seaside areas of Crete. One of these though was built in Paleochora. The venetian castle was mainly used by Venetians to establish their sovereignty against the Cretans.
Paleochora's Carnival is a very famous cultural event of the region. Many people visit Paleochora in that day (always Saturday not Sunday like all others) to participate in this celebration.
International Chess Tournament of Paleochora
For more than 5 years Paleochora hosts the International Chess Tournament where famous chess players from many countries participate. This year the tournament will be realised from 16 - 23 of July. For more information please click here.