Villa Mimagia description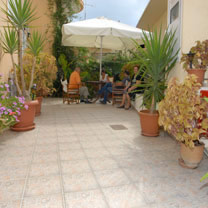 Villa Mimagia consists of 5 newly build two-room apartments, fully equipped.
Each apartment provides a private balcony so the guest may relax but at the entrance of the building there is a traditional grand yard full of flowers where anyone can relax and also meet the other residents of Villa Mimagia.
Villa Mimagia is located at the centre of Paleochora village, in a quiet small street. In less than 5 minutes walking the guest can reach the most beautiful beach of Paleochora, called "Golden sand beach" due to its golden sand. Also, in less than 2 minutes the visitor can find the most graphic fish port and many fish tavers with really fresh fishes.
Presentation of the Apartments
By clicking on the button below you have the chance to see photos of Villa Mimagia. These photos show the inside of the apartments but also the outside area. Furthermore you may see some of the basic facilities such as, bedrooms, living room, dining room, balcony, kitchen equipment, WC, strong box etc.
Future Services
Beside the services and facilities already provided, we plan to include other facilities in the future. Some of them will be:
-- rent a car | motorbike | bicycle at very low cost
-- discount coupons at local restaurants and taverns